Tuesday | 6:00pm – 7:00pm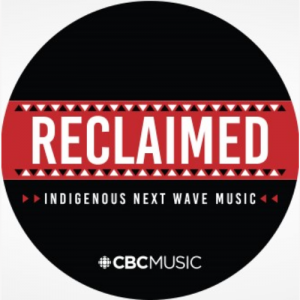 RECLAIMED is a weekly series on CBC Music that explores the many worlds of contemporary Indigenous music. From traditional songs and acoustic sounds to Native hip-hop, R&B, and the dancefloor-filling beats of electric powwow, RECLAIMED is a one hour soundtrack to the Indigenous Next Wave: a new generation of Indigenous artists reclaiming their culture through music and song.
RECLAIMED interweaves Indigenous music with live performances, artist interviews and profiles, and songs in Indigenous languages. From Buffy Sainte-Marie and Robbie Robertson to Tanya Tagaq, A Tribe Called Red and beyond, Cree/Dene host Jarrett Martineau is your guide to the Indigenous Next Wave.
Website: Reclaimed with Jarrett Martineau | Live Radio | CBC Listen