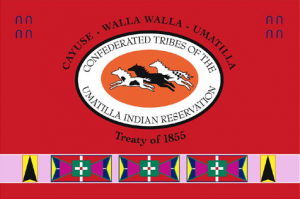 KCUW Radio is owned and operated by the CTUIR.
The Confederated Tribes of the Umatilla Indian Reservation is a union of three tribes: Cayuse, Umatilla, and Walla Walla.
The CTUIR has over 3,100 tribal members. Nearly half of those tribal members live on or near the Umatilla Reservation. The Umatilla Reservation is also home to another 300 Indians who are members of other tribes. About 1,500 non-Indians also live on the Reservation. 30% of our membership is composed of children under age 18 years old. 15% are elders over age 55 years old.
The Umatilla Indian Reservation is about 172,000 acres (about 273 square miles).
CTUIR is governed by a Constitution and by-laws adopted in 1949. The Governing body is the nine-member Board of Trustees, elected every two years by the General Council (tribal members age 18 and older).
More than 800 individuals are employed at the Tribe's Wildhorse Casino & Resort and nearly 300 are employed Cayuse Technologies.
In 1855 the three tribes signed a treaty with the US government, in which it ceded over 6.4 million acres to the United States. In the treaty, the tribes reserved rights to fish, hunt, and gather foods and medicines within the ceded lands, which today is northeastern Oregon and southeastern Washington. Tribal members still exercise and protect those rights today.
Many tribal members still practice the traditional tribal religion called Washat. Some still speak their native languages. CTUIR Language Program is underway to preserve and teach the tribes' languages.
Monthly newspaper: Confederated Umatilla Journal, published the first Thursday of each month.
Radio Station: 104.1 FM KCUW-LP Pendleton.