Host of "Tha Mish Mix" | Weekdays 9:00AM to 10:00AM & 3:00PM to 4:00PM & Nixyaawii News on KCUW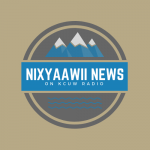 Tha Mish Mix is an electric mix of music ranging from Soul, R&B, Hip Hop, Rock, Alternative, Folk, Oldies & more.
Nixyaawii News on KCUW is a bi-weekly local community news segment that launched in October 2018.
Jiselle is also the Operations Manager of KCUW Radio.